Join Nauvoo Pageant Family Cast – Crew | Application Deadline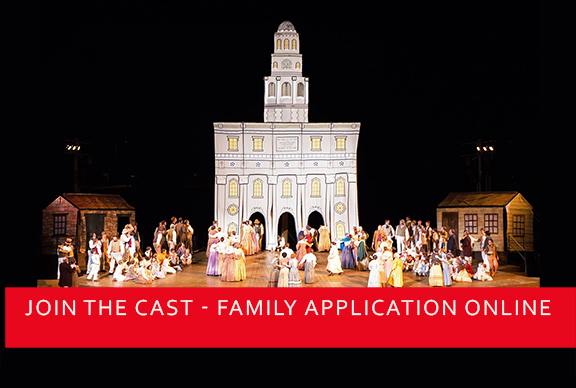 Join Nauvoo Pageant Family Cast – Crew | Application Deadline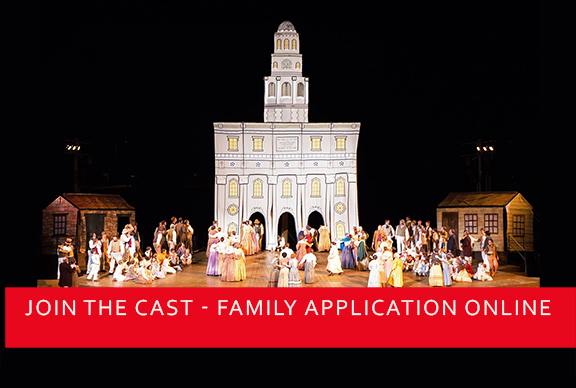 Join Nauvoo Pageant Family Cast – Crew | Application Deadline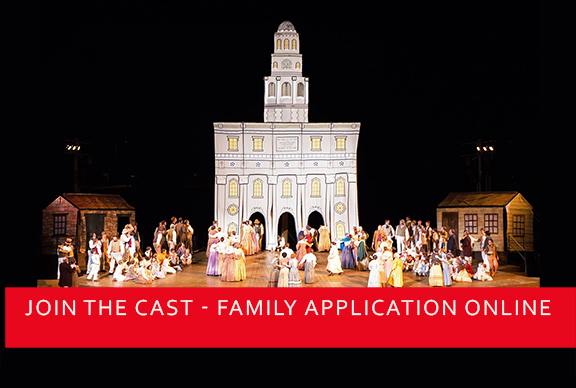 NAUVOO NEWS – Families are invited to participate in the Nauvoo Pageant. Application deadlines are approaching.
THE FOLLOWING IS INFORMATION ON HOW FAMILIES CAN BECOME MEMBERS OF THE NAUVOO PAGEANT CAST & CREW
THIS APPLICATION PROCESS IS OPEN TO ALL – YOU'RE NOT REQUIRED TO BE A MISSIONARY
(Note: Applications are accepted from September 1 to October 31 for the following Summer Season click here )
Nauvoo Pageant | Family Cast Process
Participation in the Nauvoo Pageant cast is a missionary experience for families and individuals. Participants will have many opportunities to share the gospel message with audience members and other visitors in Nauvoo while hosting the Country Fair celebration and performing in the pageant. Families and individuals will also have opportunities to strengthen their testimonies of the gospel through rehearsal and performance.
Each Nauvoo Pageant cast includes approximately 120 participants. Cast members will host Country Fair activities one week while rehearsing to perform onstage in the pageant the following week, according to the schedule listed on the application site.
The Nauvoo Pageant is a family-oriented experience; therefore, it is preferred that parents (both mother and father) and children participate together. However, individuals and families in which only one parent can participate will also be considered. Please indicate special circumstances on the talent/biographical portion of your application; all applicants will be reviewed on a case-by-case basis. Children of all ages are welcome. Single adults (age 21 & older) who are not participating with their family should apply individually. Related families, such as grandparents or extended family members, should apply on separate applications. The Nauvoo Pageant committee will review all applications on an individual basis and cannot guarantee acceptance of related families.
Physical Requirements
Participation in the Nauvoo Pageant is physically demanding. Cast members rehearse and perform long hours outdoors in Nauvoo's July and August heat, which ranges from 80s-100s with 70-90% humidity. The pageant stage is not shaded, and cast members must negotiate stairs, ramps, and the slope of the stage. Applicants with special needs or medical conditions that could affect their ability to participate fully in the pageant should make their needs or medical conditions known in the application process.
Rehearsal Schedule
While participating in the Nauvoo Pageant, families will be immersed in rehearsals with very little, if any, free time during the first week. Rehearsals begin at 8 a.m. and continue all day until the evening cast meeting, after which cast members lead Country Fair activities for the audience and do missionary work. Pageant families then watch the pageant, participate in the finale, and follow up with missionary contacts after the show, ending the day around 11 p.m. The second week, cast members spend Monday and Tuesday perfecting their performance. Once the cast begins performing regularly during the second week, cast members will have free time during the day to visit historical sites, participate in temple sessions and scheduled baptismal trips, and enjoy other cast activities such as a talent show and a testimony meeting.
Children's Participation
Because of the long hours and physical demands, parents should consider carefully the ability of their children to participate. Pageant staff will assist parents in nurturing a safe, spiritual environment in which children and youth can increase their testimonies of the gospel. However, ultimately the responsibility rests on parents to supervise their children in all pageant activities. Experience shows that the children in the cast who are most successful are those who are able to listen to and follow directions, maintain a cheerful attitude during long rehearsals, and interact positively with their peers and other cast members.
Transportation, Housing, Meals Information
Transportation:
All participants are responsible for their own transportation. The Nauvoo & British Pageants Headquarters Building (PHQ) is located apx. 3 miles East of Nauvoo at 885 East Hwy 96, Nauvoo IL. Many of the pageant activities take place there. Each individual or family will be required to have their own personal transportation in Nauvoo during their pageant participation. If flying to an airport near Nauvoo, you will need to make arrangements for your own transportation, as the pageant isn't able to operate any shuttle service.
Housing:
Pageant participants are responsible for their own housing. The majority of participants are able to find convenient housing options in Nauvoo when arrangements are made just after they receive notice of acceptance. For housing options in Nauvoo, please refer to the following websites:
The Nauvoo Tourism site: BeautifulNauvoo.com

The Nauvoo Chamber of Commerce site: www.nauvoochamber.org.; click on "category directory" from the left hand menu.

Pageant participants may request space at the Nauvoo Restoration, Incorporated (NRI) RV Park. Full electrical, water and sewer hook-ups are available. A shower house and laundry facilities are also available for park residents. No soft-sided tents permitted and no animals allowed. RV sites are available on a first come, first served basis and must be reserved through the pageant office. Cost per day is $15.00.
Meals:
Pageant participants have the option of participating in the pageant meal program. Lunches and dinners are served cafeteria-style by a contracted caterer. Participants may select any combinations of meals (lunch only, dinner only or both lunch and dinner) per week for the duration of their stay. Meal selections cannot be changed during pageant participation. To participate in the pageant meal program, a deposit totaling 50% of the cost will be due by March 15th of the current year. The remaining balance will be due by May 1 of the current year.
Pets
Your service is deeply appreciated and very valuable to the Nauvoo Pageants however, we are unable to accommodate your pets. We sincerely hope you will be able to find accommodations for your pet during your service time in Nauvoo. Thank you for your cooperation.
The information above is from NauvooPageant.org please click this link for more details and further information.