Nauvoo Gingerbread Pancakes – Pioneer Plate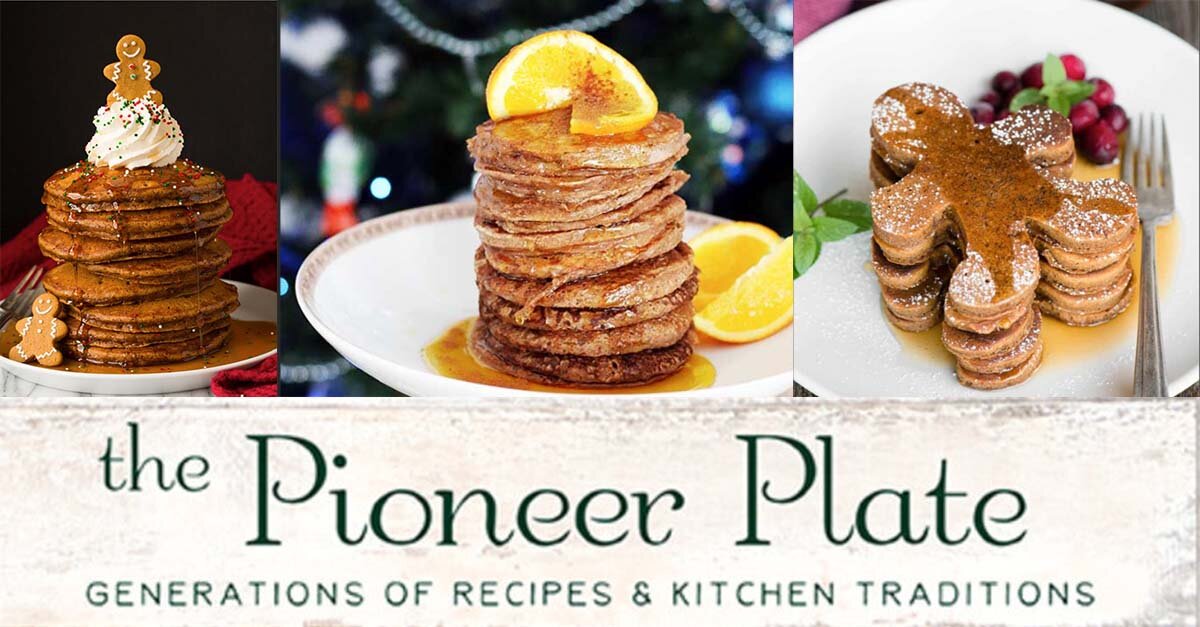 Nauvoo Gingerbread Pancakes – Pioneer Plate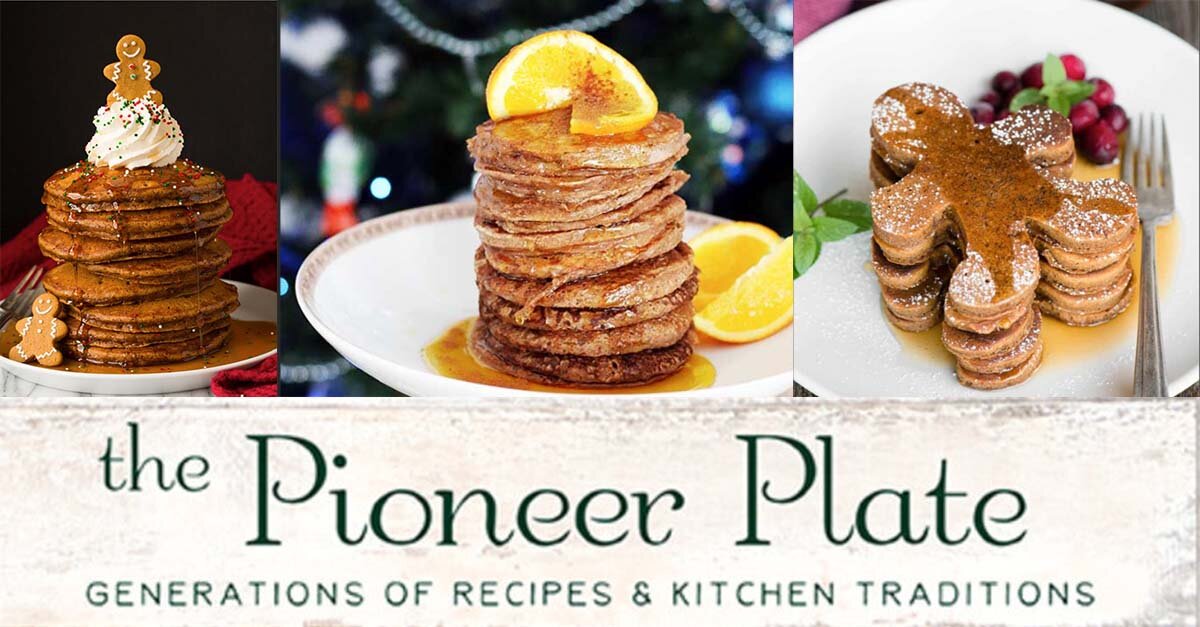 Nauvoo Gingerbread Pancakes – Pioneer Plate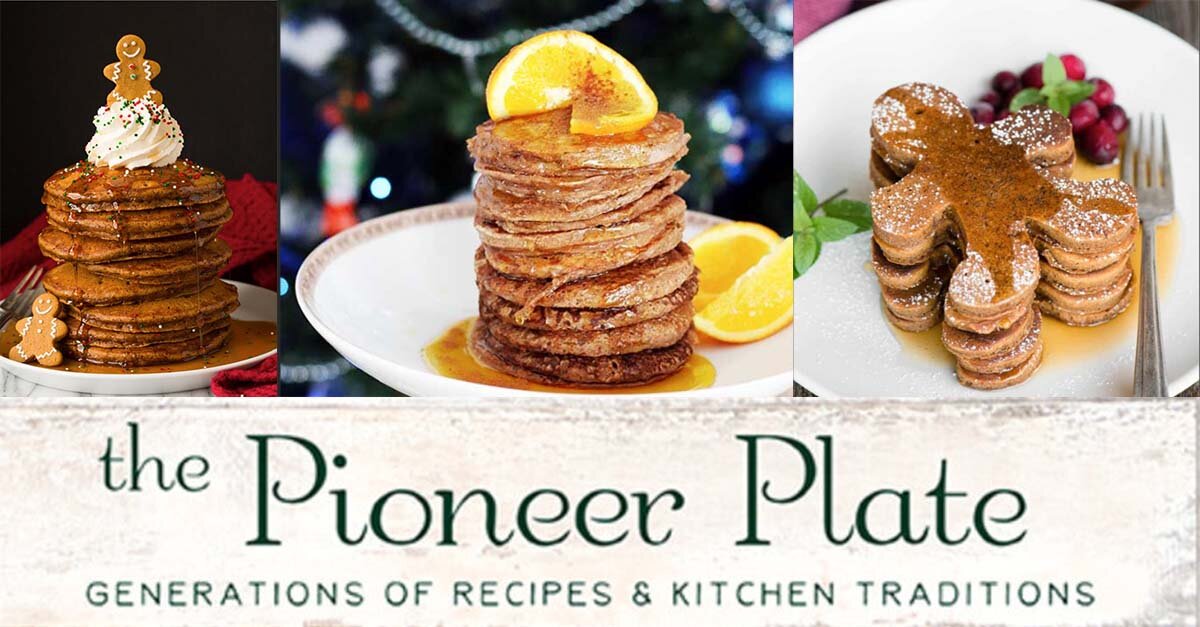 Gingerbread is the classic essence of Christmas and these pancakes do not disappoint! They are soft, fluffy and well-spiced without being overdone. The Ginger Molasses Syrup is icing on the cake! Too much maple and molasses, try the Lemon Syrup! A fabulous Christmas morning option. It will taste like you are eating cookies for breakfast!
Yield: 8 medium sized pancakes
Ingredients
Pancakes:
1 cup all-purpose flour

2 tablespoons dark brown sugar, packed (light brown may be substituted)

2 tablespoons granulated sugar

2 teaspoons cinnamon

1 teaspoon ground ginger

1 teaspoon allspice

1 teaspoon ground nutmeg

1 teaspoon baking powder

1 teaspoon baking soda

1/2 teaspoon ground cloves

pinch salt, optional and to taste

3/4 cup buttermilk

1 large egg

3 tablespoons light, medium, or dark molasses – go for one that isn't too pungent

1 tablespoon canola or vegetable oil

1 teaspoon vanilla extract
Ginger Molasses Maple Syrup:
1/2 cup maple syrup

1 teaspoon to 2 tablespoons light, medium, or dark molasses, or to taste

1/2 to 1 teaspoon ground ginger, or to taste
Lemon Syrup:
1/2 cup sugar

1 tablespoon cornstarch

Pinch ground nutmeg

1 cup cold water

2 tablespoons butter, melted

2 tablespoons lemon juice

1/2 teaspoon grated lemon zest
Directions:
Pancakes – In a large mixing bowl, add first 11 ingredients, through optional salt, and whisk to combine; set aside.

In a large glass measuring cup or medium bowl, add remaining 5 ingredients, through vanilla, and whisk to combine.

Pour wet mixture over dry ingredients, stirring until just combined. Batter will be fairly thick and some lumps will be present; don't try to stir them smooth.

Pre-heat a skillet over medium heat and spray with cooking spray (or use melted butter if you prefer).

Using a 1/4-cup measure sprayed with cooking spray for easy release, scoop batter onto warm skillet. Cook for about 2 1/2 to 3 minutes. Take a peek at the underside with a spatula, and when golden, flip over.

Reduce heat to medium-low and cook for 2 to 3 minutes, or until done. Repeat process with the remaining batter, adding more cooking spray to the skillet as needed, and wiping any black residue with a paper towel as needed. Serve immediately. Tip – To keep pancakes warm for up to 1 hour, transfer cooked pancakes to a baking sheet and place in a preheated 200F oven to keep warm.

Ginger Molasses Maple Syrup – Combine all syrup ingredients in a small bowl or serving pitcher and whisk until smooth. Warm syrup mixture in microwave for about 30 seconds if desired. Pour over pancakes. Extra syrup will keep airtight in the refrigerator for many months.

Lemon Syrup – Combine the sugar, cornstarch and nutmeg in a saucepan. Stir in water until smooth. Bring to a boil; cook and stir for 1-2 minutes or until thickened. Remove from the heat. Stir in the butter, lemon juice and zest.