VIDEO: Worldwide Choir sings "We Thank Thee O God for a Prophet" at end of General Conference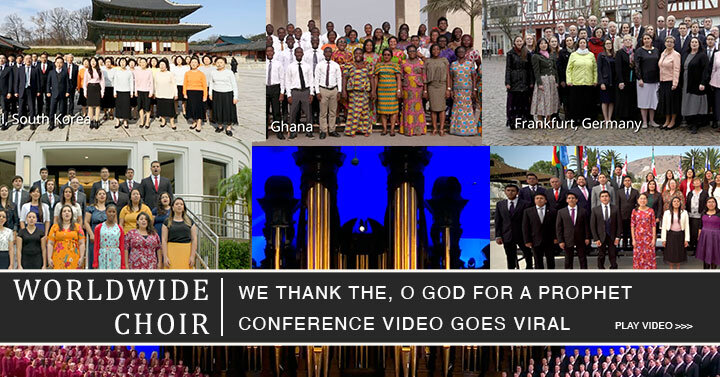 VIDEO: Worldwide Choir sings "We Thank Thee O God for a Prophet" at end of General Conference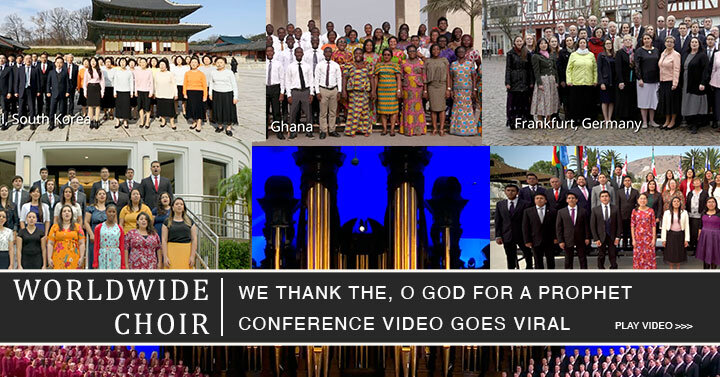 VIDEO: Worldwide Choir sings "We Thank Thee O God for a Prophet" at end of General Conference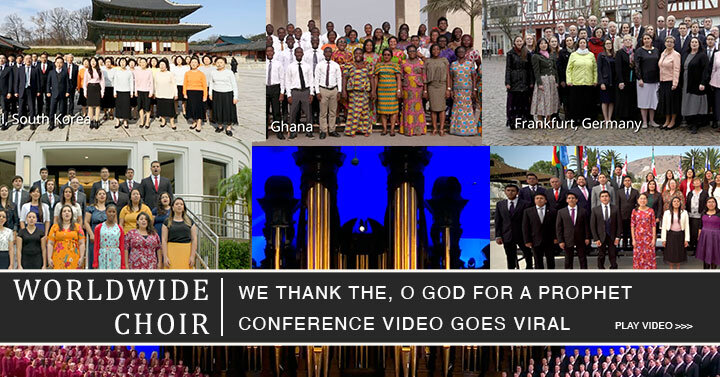 VIDEO: The 190th Annual General Conference of The Church of Jesus Christ of Latter-day Saints in April 2020 featured Latter-day Saints from around the world virtually joining The Tabernacle Choir at Temple Square in a prerecorded performance.
Every six months, in October and April, Latter-day Saints and friends of the faith are invited to tune in to messages from Church leadership about the restored gospel of Jesus Christ at general conference.
During the last session of the October 2019 general conference, Church President Russell M. Nelson promised a memorable April 2020 conference in his closing remarks.
"In the springtime of the year 2020, it will be exactly 200 years since Joseph Smith experienced the theophany that we know as the First Vision," said President Nelson. "General conference next April will be different from any previous conference."
In addition to the historic significance April's general conference holds as the bicentennial anniversary of Joseph Smith's First Vision — one of the Church's most important foundational events — risks associated with the COVID-19 pandemic meant that the Church's official choir could not sing live, as they normally would.
These unique circumstances provided even more value to a recently produced compilation of prerecorded videos of the iconic Tabernacle Choir at Temple Square and choirs of Latter-day Saints from congregations across the globe.
At the close of the Sunday afternoon session, the preproduced video of Church members on six continents singing "We Thank Thee, O God, for a Prophet" along with the Church's iconic choir was broadcast by satellite and streamed by internet to millions of people worldwide who listened to general conference on Church and public-facing channels.
Latter-day Saint choirs from Accra, Ghana; Mexico City, Mexico; Seoul, South Korea; Sao Paulo, Brazil; Frankfurt, Germany; and Auckland, New Zealand, participated in the almost five-minute rendition of the beloved Church hymn.
"Singing together creates feelings of unity and closeness, something that we all need even more as we sit in our homes in isolation," said Natalie Martinez Pedersen, a member of the New Zealand choir.
The participating choirs sang the hymn in their native languages, which included English, German, Korean, Portuguese and Spanish.
"Prior to anyone knowing what the effects of COVID-19 would be on the world or our general conference, [the hymn] served as a tender mercy and helped lift and heal us just when we needed it," said Martinez Pedersen, who is originally from Salt Lake City, Utah.
Each choir was recorded in their respective country. Near Frankfurt, Germany, the Latter-day Saints sang in a picturesque backdrop of the historic market square of Windecken, a district of Nidderau, and in New Zealand, the choir was recorded on the shores of Auckland.
"We looked for a dreamy location that an international audience could easily identify as Germany," explained Judith Genster, a Church project manager who assisted with the video and audio recording last February.
"To us, a historical location matched the focus of our conference," said Genster.
"What a once-in-a-lifetime way to participate in a historic general conference!" shared Warren Gubler, who serves as a volunteer Church service missionary with his wife, Alisa, in Auckland, New Zealand.
The Gublers, who joined the New Zealand choir, rode a bus with their fellow choir members to one of Auckland's beaches in Wenderholm Regional Park. When they arrived, the group of several dozen Latter-day Saints were recorded as they sang along to a prerecorded Tabernacle Choir audio track that was later edited to match the song's timing.
"It was exciting to see the finished product and amazing to be part of this memorable experience," said Alisa. "I have seen many comments [on social media] … about how people were moved to tears."
"This multicultural, multilocation choir rendition of 'We Thank Thee, O God, for a Prophet' was a particularly tender highlight moment of this past weekend's conference for me," said Tracy Browning, a member of the Relief Society's general board, on social media. "I felt deeply impressed with the beauty and diversity of God's children. Diversity is wonderfully harmonized when we are focused in the same direction."
"It felt very humbling to add your small voice to something that then became something powerful," Martinez Pedersen shared. "It was magnified by the unity of the choirs, the global membership and the spirit that was present in voices, minds and in hearts of everyone watching."