Town of Nauvoo Doubles in Size Becoming a Village of Volunteers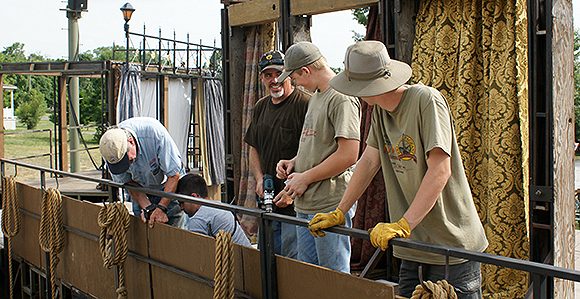 Town of Nauvoo Doubles in Size Becoming a Village of Volunteers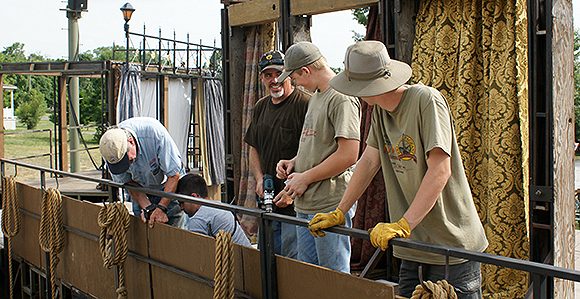 Town of Nauvoo Doubles in Size Becoming a Village of Volunteers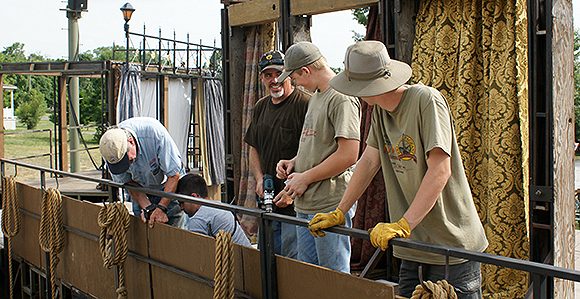 Nauvoo gets more than 1,100 volunteers to work on the Nauvoo pageants every summer—nearly as many people as live in Nauvoo itself. (The 2010 census lists a total of 1,149 residents in Nauvoo.)
The performers at the pageants consist of the "core cast," who portray major characters and most speaking parts and therefore remain for the duration of the pageants; young performing missionaries, who as part of their assignment perform in many productions in Nauvoo, including in the pageant and in the Nauvoo Band; and the "family cast," who are volunteer Church members who remain at the pageants for two weeks at a time—one week to learn their parts, cues, and dances, and the second to perform and teach the new cast following them.
There is also the Nauvoo Pageant Bagpipe Band, which performs at many locations in Nauvoo and the surrounding communities and includes volunteers who accompany the band in order to speak with interested guests while the band plays.
Besides the performers, the pageants rely on many others to function. There is the work crew, who helps maintain the technical and mechanical side of the pageant; the costuming team, who fits the costumes to the cast and prepares them for each new group; family support, who help take care of volunteers' children during specific parts of the day; food preparation teams for the pageant headquarters; photographers who document the pageant and the work surrounding it; translators who make the pageants accessible for Spanish-speaking visitors; and security and maintenance workers.