Sister Ballard, Wife of President M. Russell Ballard, Dies at 86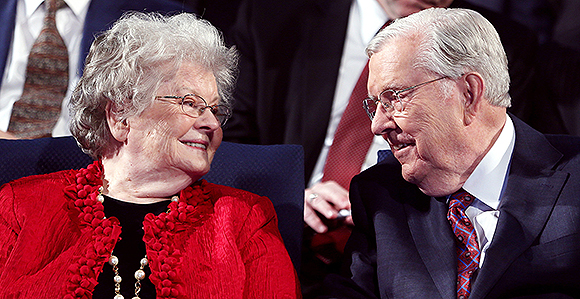 Sister Ballard, Wife of President M. Russell Ballard, Dies at 86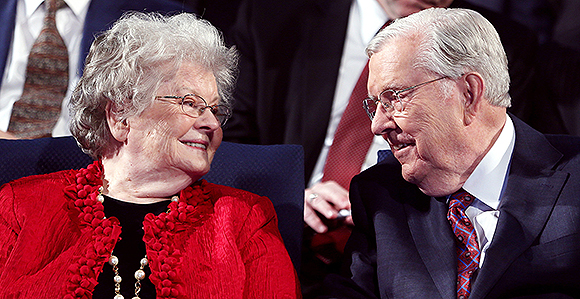 Sister Ballard, Wife of President M. Russell Ballard, Dies at 86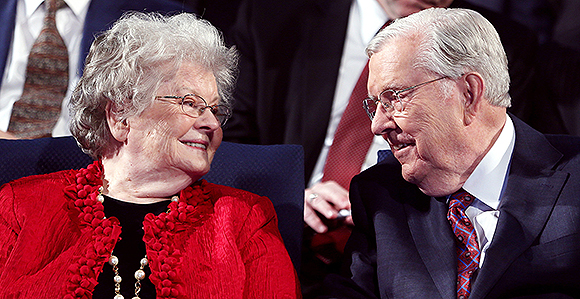 After a life of dedicated service to her family and the Church, Sister Barbara Bowen Ballard died peacefully Monday, October 1, 2018, at her home in Salt Lake City, surrounded by her family. She was 86.
The wife of President M. Russell Ballard, Acting President of the Quorum of the Twelve Apostles of The Church of Jesus Christ of Latter-day Saints, Sister Ballard will be remembered for her characteristic grace, sense of humor, loving smile, and lack of guile.
A loving wife, mother and grandmother, Sister Ballard faced many health issues in recent years, including Alzheimer's disease.
Barbara Bowen was born January 5, 1932, in Salt Lake City, Utah, to James Russell Bowen and Afton Wilkins Bowen. She was a student body officer at South High School in Salt Lake City, where she graduated as valedictorian of her class. She also attended the University of Utah and studied English.
Just three days after Russell Ballard returned home from his mission in the British Isles, he met his future wife at a Hello Day dance.
"A friend of mine thought I ought to meet her, so he tagged in to dance with her, danced over to where I was, introduced me, and I danced with her 30 seconds before I was tagged out," President Ballard recalled later. "That was the beginning of a courtship of 11 months."
Year later, President Ballard said that "getting her to agree to marry me was the greatest sales job I ever did."
"She was not only beautiful but had a sparkling personality," he said.
The couple married August 28, 1951, in the Salt Lake Temple, and had two sons and five daughters.
Shortly thereafter, he was called to serve in a bishopric of the Monument Park 13th Ward in Salt Lake City. Later, he would serve as bishop of the ward.
The couple moved to Toronto, Canada, in 1974, where President Ballard presided over the Canada Toronto Mission until 1977. It was during that service that he was sustained to the First Quorum of the Seventy on April 3, 1976, continuing his duties as mission president until the term of service was up.
During their time in Ontario, Sister Ballard made many cherished connections with the missionaries, Church members and community members.
President Ballard often acknowledged Sister Ballard's support in their family's success. "I married the right daughter of God," he said. "Without the help and direction of Barbara, our family relationships would not have been as happy and fulfilling as they were. Barbara is a treasure for our family forever. We honor her for her constant love, good judgment, and counsel."
On March 28, 2002, Sister Ballard was honored as the Exemplary Woman of the Year at Brigham Young University-Idaho.
In her remarks, Sister Ballard spoke on the theme, "Standing in Holy Places." She affirmed that a woman can make every home a holy place by the standards that she keeps and the grace that she shows. She encouraged women to make good choices and develop their talents.
During a devotional address on March 13, 2001, Elder Ballard spoke of his 50-year marriage to Sister Ballard.
"The greatest day in my life was the day I met Barbara Bowen," he said. "My greatest accomplishment was convincing her that I was the only true and living returned missionary among all of those she was dating. It was a most important day when we were married in the Salt Lake Temple."
Sister Ballard served faithfully in many Church callings. She taught classes and served in presidencies of the Primary, Young Women, and Relief Society. She found great joy as she befriended and fellowshipped others.
For 15 years Sister Ballard served as a caregiver to her mother, Afton Bowen—who came to live with the Ballards in her later years. Sister Ballard often commented on her gratitude for the time she spent with her mother during that time. Together they shared a love of laughter and created cherished family memories.
According to her family, Sister Ballard's greatest desire was to be a loving mother to her children—Clark (Leanna) Ballard, Holly (Paul) Clayton, Meleea (David) Roper, Tammy (Brad) Brower, Stacey (Hal) Murdock, Brynn (Peter) Huntsman, and Craig (Melissa) Ballard—43 grandchildren and 90 great-grandchildren.