Recovering Shooting Victim Maddy Wilford Thanks First Responders, Asks for Unity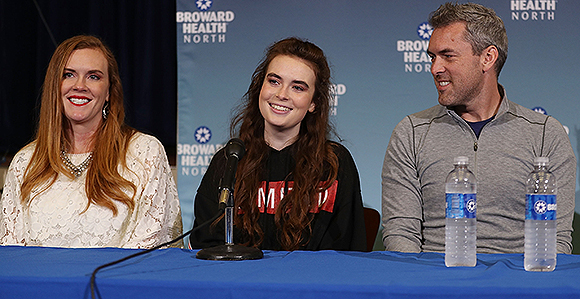 Recovering Shooting Victim Maddy Wilford Thanks First Responders, Asks for Unity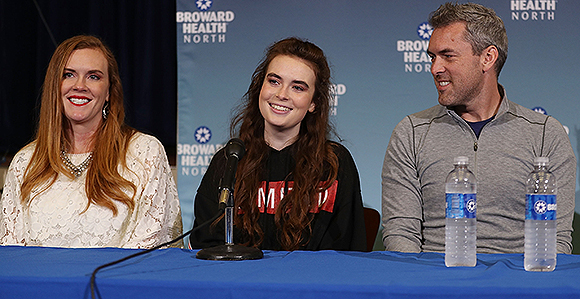 Recovering Shooting Victim Maddy Wilford Thanks First Responders, Asks for Unity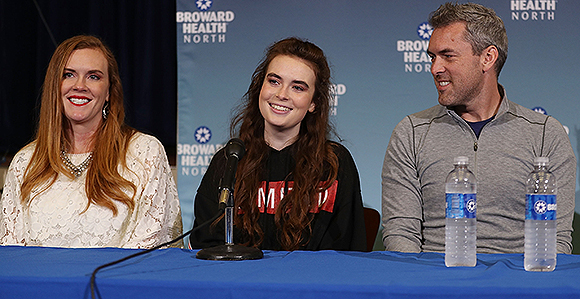 Maddy Wilford sat down on a chair at Broward Health North Hospital on February 26 and looked across a scene she could not have imagined days earlier.
Facing her were rows of reporters and camera operators from local and national news networks. Her parents sat at her sides and, beside them, doctors and local first responders.
That unusual gathering introduced live web viewers across the globe to Maddy—a 17-year-old Laurel and one of the many victims of the February 14 mass shooting at Marjory Stoneman Douglas High School.
Maddy wore a black sweatshirt and casual pants—the sort of outfit you'd expect from an athletic high school junior. She walked without aid. Just 12 days earlier, she had arrived at the hospital critically injured after being shot multiple times.
It's no surprise many are calling Maddy's recovery a miracle.
"I'm so grateful to be here," she said softly. "It wouldn't be possible without those [police] officers and first responders and amazing doctors."
A member of the Coral Springs Ward, Coral Springs Florida Stake, Maddy spoke of the love, letters, and gifts from many others. That love, she said, has sustained her. "I wouldn't be here without it."
She also called for unity at a post-shooting moment defined by divisive debate. "At times like these, I know we need to stick together."
She ended her brief remarks with a reassuring smile: "I'm making a full recovery, and everything has been going so smoothly."
Her mother, Missy Wilford, said she too is grateful for all who have stepped forward to help. "Yes, this is a tragedy. But I would like to find the positives and what has happened in our community."
Power, she added, has been found in prayer.
"We've had an outpouring from people we don't know, people I now consider to be our friends," she said. "I may not have met you, but your prayers were felt."
She called her daughter "a fighter" who "wants to get better." She again offered thanks for Elder Gary E. Stevenson of the Quorum of the Twelve Apostles, who administered to Maddy in her hospital room.
"Madeleine knows who she is, and she knows where she wants to go and what she wants in life—and that strength and power is what helps you heal," she said. "It makes you want to get up. It makes you want to keep going.
"[Maddy] has been an inspiration to me."
She ended with a message to the other mothers suffering for their slain or injured children: "I love you and I'm here for you."
"I'm grateful to be sitting here next to my daughter," said Maddy's father, David Wilford.
He saluted the police officers, sheriff's deputies, doctors, and first responders who helped save his daughter's life.
"There are a lot of emotions going on, so it's hard for me to feel anything but gratitude and thanks for the miracle that has happened with [Maddy]."
Blessings have come, he added, "from the outpouring from the community and all the prayers people have given us."
In an earlier interview with the Deseret News, Maddy spoke of her love for fellow Coral Springs Ward member Alaina Petty, a 14-year-old who died in the shooting.
"I loved her," she said. "She always lit up the room. She was always so lighthearted and spirited. She always made people laugh. It was rough losing her, finding out she was dead.
"I know she's in a good place."
Two weeks before the shooting, Maddy spoke in stake conference about life's challenges and pain.
"Most people say they don't believe in God because if there was a God, all these terrible things wouldn't be happening," Maddy recalled telling the congregation, "but that's what we're put on this earth to do, to endure a lifetime, and life's going to be full of ups and downs. The only way we can make it better is to turn toward Christ and know that He always has a plan for us, and He'll help us through it no matter what."