President Nelson's Personal Note of Sympathy to Pope Francis on Notre Dame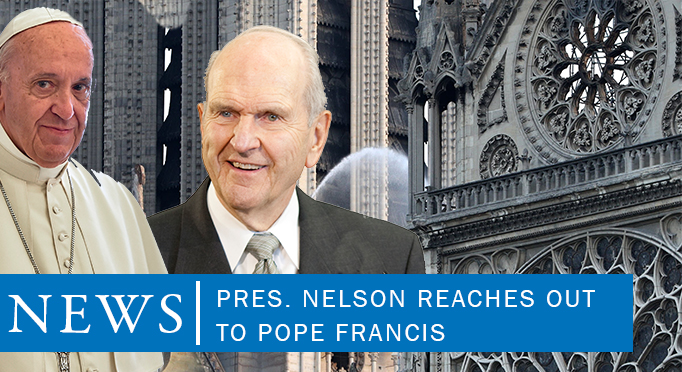 President Nelson's Personal Note of Sympathy to Pope Francis on Notre Dame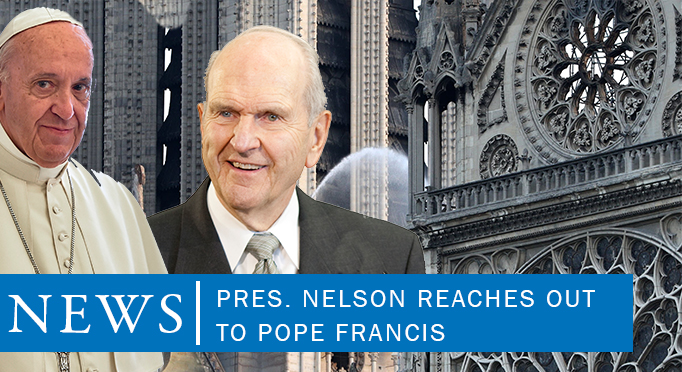 President Nelson's Personal Note of Sympathy to Pope Francis on Notre Dame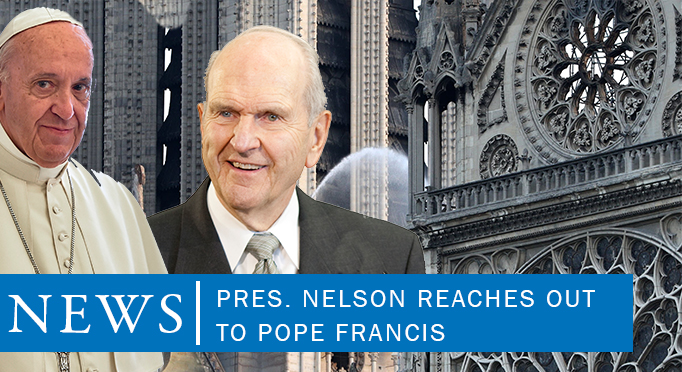 President Russell M. Nelson of The Church of Jesus Christ of Latter-day Saints wrote words of comfort and encouragement to Pope Francis in the wake of the devastating fire at the Notre Dame Cathedral in Paris, April 15, 2019.
In his letter, President Nelson expressed profound sadness at the damage done to this sacred structure that has stood for more than 800 years. President Nelson, the leader of a 16.3 million-member faith community, told the Bishop of Rome that his thoughts immediately went to him and the many beloved friends in the Catholic faith. He said he is heartbroken by the tragedy to such an ageless symbol of faith and shares his feelings of grief.
President Nelson said he prays Notre Dame will rise again in newness of life.
In March 2019, President Nelson and President M. Russell Ballard of the Quorum of the Twelve Apostles visited Pope Francis at the Vatican in Rome, Italy, the day before President Nelson dedicated the Rome Italy Temple.
The Church's Europe Area Presidency—Elder Paul V. Johnson, Elder Gary B. Sabin, and Elder Massimo De Feo—expressed sympathy to Michel Aupetit, archbishop of Paris. The Latter-day Saint leaders shared their hope both for the people of France and the entire Christian world that Notre Dame will be restored as a symbol of faith.
Other Church leaders penned a separate letter to Bishop Oscar A. Solis, appointed in 2017 by Pope Francis to lead the Diocese of Salt Lake City. President Ballard and Elder Ronald A. Rasband of the Quorum of the Twelve Apostles, along with Elder Craig C. Christensen of the Church's Utah Area Presidency, expressed to Bishop Solis their deep sadness at the damage done to Notre Dame.