Nauvoo Exodus Commemoration Draws Hundreds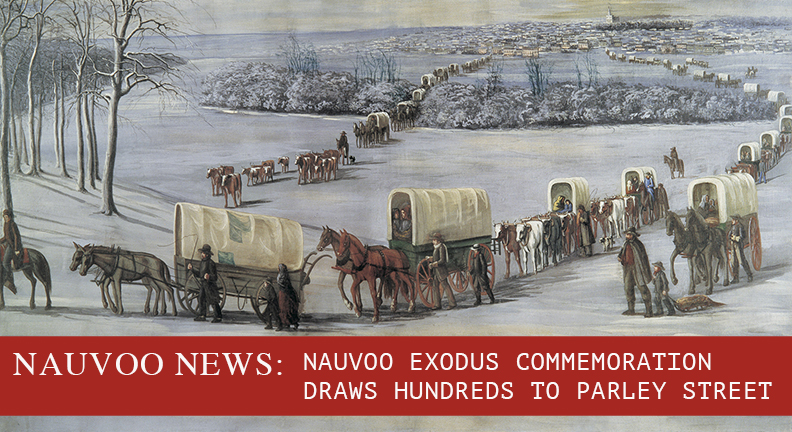 Nauvoo Exodus Commemoration Draws Hundreds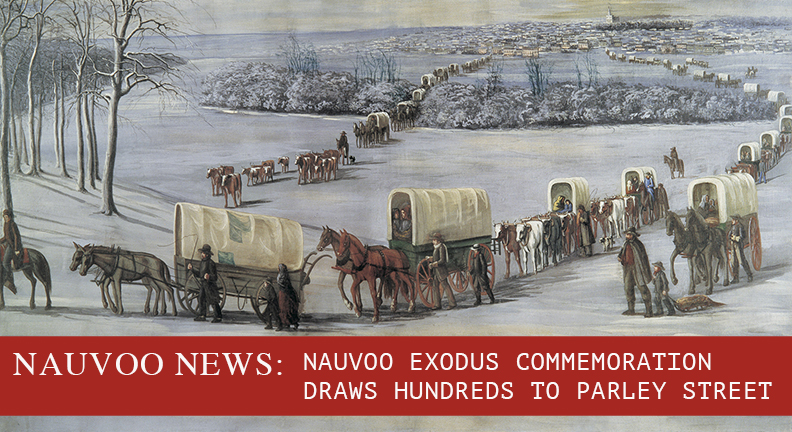 Nauvoo Exodus Commemoration Draws Hundreds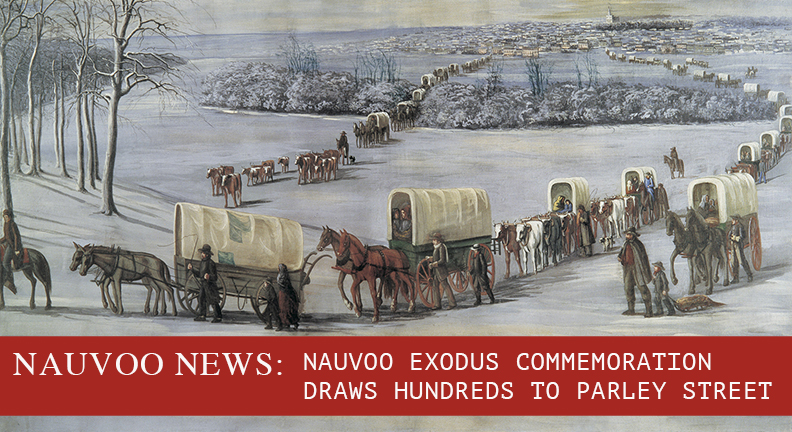 NAUVOO NEWS – Hundreds gathered in Nauvoo today for the 9th Annual Nauvoo Exodus Commemoration & Reenactment. The Church of Jesus Christ of Latter-day Saints hosts this meaningful event on the first Saturday of February each year to mark the exodus of the Latter-day Saint pioneers from Nauvoo over 170 years ago.
At the free breakfast served to the public at the Family Living Center by the Nauvoo missionaries, President Mark Lusvardi of the Illinois Nauvoo Mission welcomed the crowds and shared some brief remarks. The Family Living Center is located behind the historic Cultural Hall in the center of old Nauvoo.
The marchers formed ranks & companies and were led by a flag bearer and drummer boy. A troop dressed as the Nauvoo Legion then began the hundreds of people, wagons, horses, and oxen to Nauvoo's Parley street and the Trail of Hope. "This is an amazing event each year and it's a privilege to participate in it." said Susan Clark, who drove with her family from Omaha, Nebraska to take part in the commemoration.
Each year, the commemoration has seen an increase in attendance. The Untold Nauvoo Stories Symposium is held on the same weekend making for a busy weekend in Nauvoo.
"We come from the Quad Cities every year and we love it" says Dale Oliver, who has relatives that left with the Saints in 1846. "We wouldn't miss it".
"My husband and I are not members of the Mormon faith, we just happened to be in town. It's really an experience to see all these folks honor their history." said Elizabeth Finsterwalder from Ames, Iowa. "We feel very luck to have caught this."