Looking Back: President Gordon B. Hinckley Helps a Dream Come True in Fiji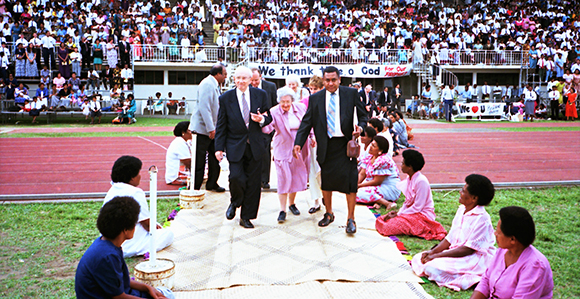 Looking Back: President Gordon B. Hinckley Helps a Dream Come True in Fiji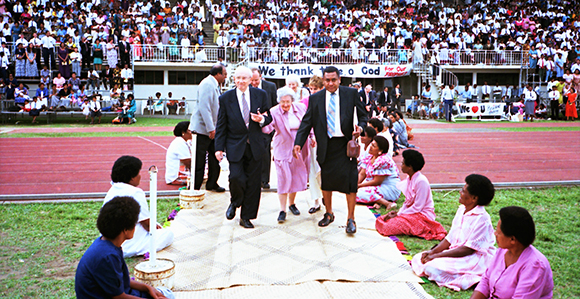 Looking Back: President Gordon B. Hinckley Helps a Dream Come True in Fiji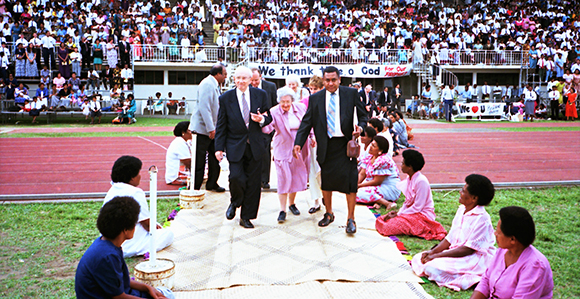 NAUVOO NEWS – We all have moments we're not likely to forget, some so vivid they seem to knit together past and present.
One of those moments for me occurred on October 15, 1997, in Suva, Fiji, which was one of the stops on President Gordon B. Hinckley's visit to eight islands of the South Pacific from October 10 to October 17. The tour gave me new insight to the term "island hopping."
President Hinckley began his tour in Laie, Hawaii, on October 10. The Church News turned over to a correspondent in Hawaii the assignment to report on that leg of the prophet's journey for the simple reason I couldn't keep up with him and his entourage. They traveled by private jet; I flew on commercial airlines—the schedules of which didn't always meet their itinerary.
Those accompanying President Hinckley included Sister Marjorie Pay Hinckley; Elder Joseph B. Wirthlin of the Quorum of the Twelve Apostles and his wife, Sister Elisa Wirthlin; and Elder Vaughn J. Featherstone, General Authority Seventy, and his wife, Sister Merlene Featherstone.
I met up with President Hinckley and his group in Apia, then Western Samoa—now it's called Samoa—on October 11. He visited the island of Savai'i and then went to Pago Pago, American Samoa, on October 13. That same day, he traveled to Nuku'alofa, Tonga, a trip of about 90 minutes, but because of crossing the International Dateline, he arrived on Tuesday, October 14.
The moment I mentioned earlier—in Fiji—occurred as President Hinckley arrived in Suva. I got to Fiji's National Stadium about two hours before he was scheduled to address Church members there. I watched members from many of Fiji's islands arrive. As in the other island nations, most had never seen a prophet in person. Their anticipation was almost palpable.
I met some members from the Labasa Branch, part of a group of 100 Latter-day Saints who undertook an arduous journey from the island of Vanua Levu to Fiji's main island of Viti Levu. The Labasa members began saving money to pay for their trip to Suva as soon as they heard President Hinckley planned to visit. They did without things they ordinarily would have bought for daily use. They traveled four hours on an uncomfortable bus over dusty roads and then 12 hours on a boat. The daytime travel was hot and humid; the night hours were chilly. The journey was the first time many had traveled away from their island.
They arrived at National Stadium three hours before the meeting. They watched people arrive by the hundreds until about 5,000 had assembled. Labasa Branch President Tipo Ralifo told me their eyes widened in amazement as they, for the first time, found themselves in the midst of a vast congregation of Latter-day Saints.
The meeting was scheduled to begin at 3 p.m. That hour came and went. President Hinckley's plane had been delayed leaving Tonga earlier that day. Time seemed to stand still. Every few seconds, members looked toward the portal through which President and Sister Hinckley were to enter. Then the moment finally came. At 3:10 p.m., the members stood and began singing "We Thank Thee, O God, for a Prophet."
Instantly, tears welled up in the eyes of many in the congregation. Emotion choked their voices, but they continued to sing "to guide us in these latter days." Soon, emotion overcame control. Many stopped singing and wept. They used handkerchiefs, scarves, backs of hands, shirttails, sleeves, and dress collars to wipe tears from their eyes so they could have clear vision to see the prophet.
As he addressed the members, President Hinckley asked how many of them would like to have a temple in Fiji. It almost seemed as though an electric current ran through the stadium. Hands went up. More tears flowed.
However, President Hinckley said he wasn't announcing a temple for Fiji on that day, but he promised that—one day—a temple would be built in the island nation.
That promise, that dream for the Fijian Saints, became reality when he returned and dedicated the Suva Fiji Temple on June 18, 2000, less than three years after that memorable visit.