LDS FamilySearch brings American Revolution museum to Philadelphia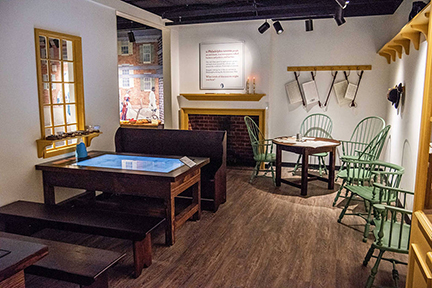 LDS FamilySearch brings American Revolution museum to Philadelphia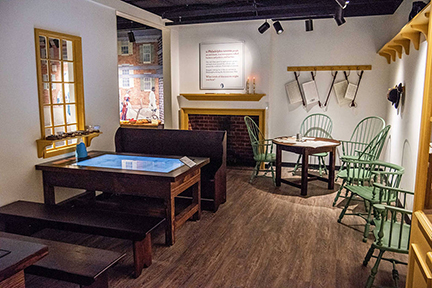 LDS FamilySearch brings American Revolution museum to Philadelphia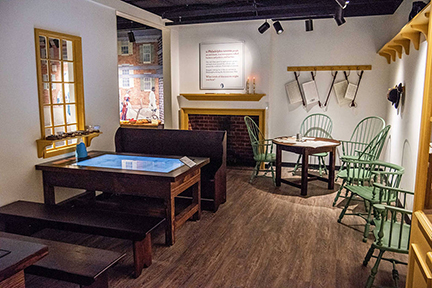 The Museum of the American Revolution is up and running in Philadelphia after four years of collaboration with FamilySearch.
The exhibit, which opened June 9, was developed in an effort to allow guests to find their own connection to the American Revolution — whether they're American or not.
"Maybe your family is from Asia. It seems as though there's nothing in the Revolution that connects to your heritage," Turdo explained. "But then you find there was active trade and it does affect the Americans and there is this connection."
Just few minutes away from the Church's Philadelphia temple, the museum began talking to FamilySearch about working together on the exhibit as early as 2011. That relationship was formalized around 2013 and was well into production when Mark Turdo, curator of the museum, joined the planning in 2016.
"Revolution Place" is a different kind of family-friendly experience. It's meant to be interactive for both children and adults — a place where groups could spend hours if desired.
The experience is immersive, with almost no area that is "off-limits." Guests are encouraged to sit in the tavern and read a revolution-era newspaper, try on authentic-style clothing and even sign up to fight in the war.
"I think it's safe to say that this is the only space like this in southeastern Pennsylvania," Turdo said. "To my knowledge, no history museum has put in a program like this."
In a press release, Elder Milan F. Kunz, an Area Seventy in Philadelphia, said the exhibit is "a wonderful way to help promote the idea that we're all one big part of God's family."
The nature of "Revolution Place" encourages conversation to happen naturally. Certain spots have "conversation cards" that encourage guests to talk to their group about a question or topic. Turdo has already noticed that groups tend to "linger longer," and that there's more talking and interaction than in the core exhibit of the museum.
By immersing themselves in history, guests can become a part of the revolution and see a part of history that isn't always talked about in the typical "big, sweeping way."
Although the ability to spend lots of time in each part of "Revolution Place" may change after the official opening, Turdo thinks that the immersive "barriers-free" experience changes the guest's approach to history.
"I think that taking down a lot of the barriers physically also removes a lot of mental barriers that people have to thinking and talking about history," he said.
Even though many of the developers at FamilySearch who worked on the digital interactive parts of the exhibit haven't been able to make the trip to see it in action, Turdo said he hopes one day they'll be able to.
"They've done a lot to build that moment," Turdo said. "I wish they could come and see it being enjoyed."
Each individual has a slightly different "free-choice learning" experience, but Turdo hopes visitors leave feeling a little more connected to this part of history and to each other.
"It's less about content and more about experience when you're in Revolution Place," Turdo said. "But it does the same thing to really engage every modern American and help them find their tie to the Revolution."