LDS Church President Dies at Age 90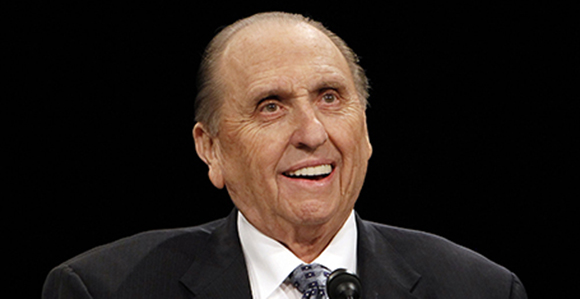 LDS Church President Dies at Age 90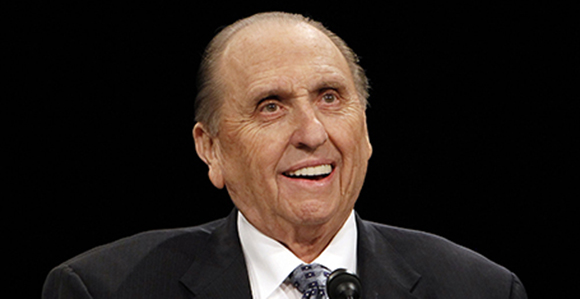 LDS Church President Dies at Age 90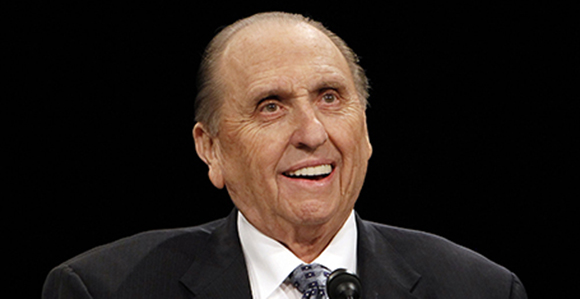 President Thomas Spencer Monson, 16th President of the Church, died Tuesday, January 2, 2018, in his home in Salt Lake City. He was 90 years old.
Funeral services will be held in the Conference Center on Temple Square Friday, January 12, 2018, at noon (mountain standard time). The funeral will be open to the public ages 8 and older. A public viewing open to all ages will take place Thursday, January 11, from 9:00 a.m. until 8:00 p.m. in the Conference Center. (See related story.)
President Monson was well acquainted with the governance of the Church, not only through knowledge gleaned through written histories but also through personal experience.
Called to the Quorum of the Twelve at age 36, he spent 45 years as an Apostle and served as counselor to three Church presidents: Second Counselor to President Ezra Taft Benson and President Howard W. Hunter, and, for nearly 13 years, First Counselor to President Gordon B. Hinckley.
Upon President Hinckley's death, President Monson was set apart on February 3, 2008, as President of the Church.
Even before the era of his ministry as a General Authority, he spent his life on the Lord's errand, from serving as president of his ward's deacons quorum as a young man, to serving as a bishop in his early 20s, to presiding over a mission in his early 30s, to becoming a member of the Quorum of the Twelve Apostles in his mid-30s—at age 36.
President Monson had all the hallmarks of an unassuming servant of the Lord.
In 1997, he was asked to describe what it had been like to be called as an Apostle of the Lord. He didn't answer the inquiry directly, but spoke of "being called of God" in more general terms, in a manner every member with a calling could understand. He spoke of being called as a bishop of a ward of 1,080 members at age 22. He said, "I had a heavy responsibility for welfare, … About a third of the ward was represented by old-time families and two-thirds by a transient population. Why I was selected, I can't tell you that" (Gerry Avant, Church News interview notes, August 1997).
During a conversation with the Church News he reflected on the occasion when, in just a few days, during the April 2008 general conference, members worldwide would raise their hands in a solemn assembly to sustain him as President of the Church.
Asked about his thoughts and feelings pertaining to the moment he realized he was going to be the next President of the Church—the one who holds all the priesthood keys—President Monson said, "I've always followed the philosophy, 'Serve where you're called, not where you've been or where you might be. Serve where you're called.'
"I did that as a bishop, as a stake presidency member, as a mission president and as an Apostle. I didn't know but what President Hinckley would outlive me. Some die young, some die older" (Gerry Avant, Church News, April 5, 2008).
During his years as a General Authority, President Monson willingly, and enthusiastically, served where he was called. As a member of the Quorum of the Twelve Apostles, he supervised the missions of the Church in the western United States, the South Pacific, Mexico, Central America, and Europe. After a number of years and following the policy of rotation, the European missions were transferred to another member of the Twelve. However, Elder Monson retained responsibility for all countries behind the Iron Curtain. He was instrumental in the construction of the Freiberg Germany Temple, served as chairman of the Scriptures Publication Committee, and supervised the process that resulted in the new editions of the Standard Works of the Church. He had a major role in the supervision and expansion of the Church's welfare program, and its humanitarian work and developmental projects around the world to help those in need, regardless of faith.
From his days as a bishop through his years as President of the Church, his name forever will be linked to compassionate endeavors, service to others, and a strong desire to help those who are helpless, nourish those who are weak, and lift those who suffer various afflictions. He demonstrated that service most effectively on a one-to-one basis.
No one can count the number of times President Monson paid personal visits to homes or hospital bedsides to offer comfort, cheer, and blessings, or took time to write a letter or make a telephone call to someone who needed a friendly communication. In a 1998 conversation, Sister Frances Johnson Monson (1927–2013) said that she had seen her husband "work himself nearly to exhaustion as he has gone about blessing the lives of those in need" (Gerry Avant, Church News, May 2, 1998).
In an interview on the occasion of his 81st birthday, he was asked to describe what he would consider the ideal gift that members worldwide could give him. Without a moment's hesitation, he said, "Do something for someone else on that day to make his or her life better. Find someone who is having a hard time, or is ill, or lonely, and do something for them. That's all I would ask" (Gerry Avant, Church News, Aug. 23, 2008). His reply was in keeping with the character of a man who devoted his life to serving others.
President Monson was always anxious to heed promptings to serve others. In an interview a year after he was sustained as President of the Church, the Church News pointed out there are only so many hours in a day and even the prophet is a mortal who has limited time and energy and, certainly, there must be occasions when he feels he can't act on a prompting. He replied, "I don't want to ever get to that point" (Gerry Avant, Church News, Jan. 31, 2009).
On an earlier occasion, he said, "There is nothing quite like being in the service of the Lord Jesus Christ, and all of us have that privilege." Asked if he had a wish regarding his future, he said, "I want to live the best I can and do the most for others as long as I can" (Gerry Avant, Church News, Aug. 25, 2007).
In 1997, when he was about to turn 70, the Church News asked President Monson how he would like to be remembered. He replied with a brief phrase that aptly captured the essence of his life: "I tried my best."