LDS Billionaire, Family Man Honored at Funeral for Life of Devoted Service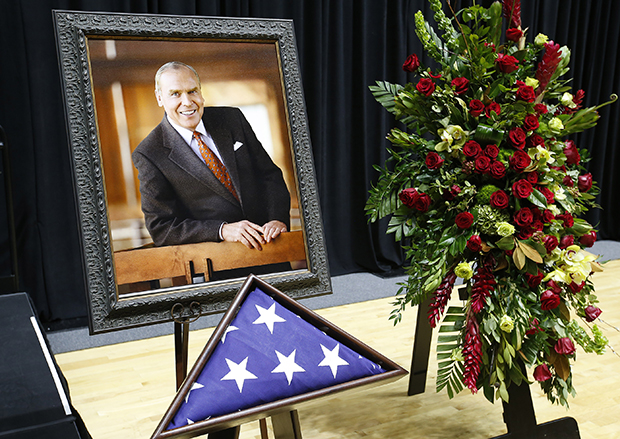 LDS Billionaire, Family Man Honored at Funeral for Life of Devoted Service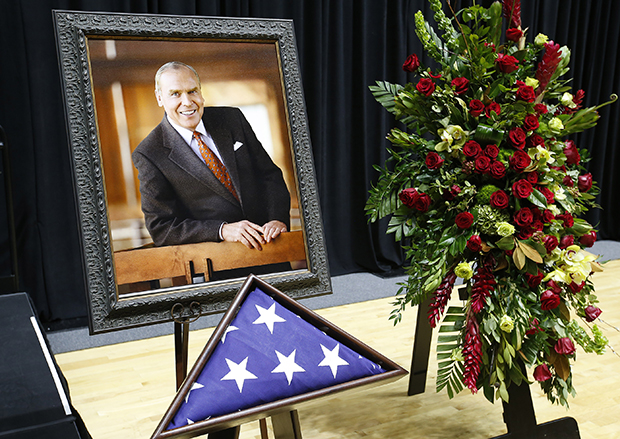 LDS Billionaire, Family Man Honored at Funeral for Life of Devoted Service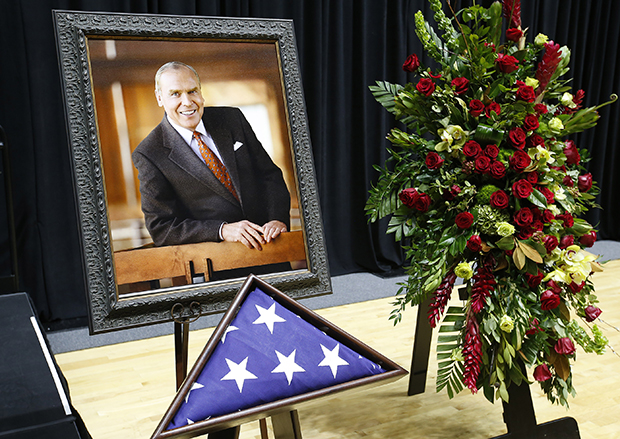 Within the university arena and in the vicinity of the cancer research hospital that each bear his name and legacy, billionaire industrialist, philanthropist, and Church leader Jon Meade Huntsman was honored at a funeral service Saturday, February 10.
Church President Russell M. Nelson presided over and spoke at the service in the Jon M. Huntsman Center on the University of Utah campus. President M. Russell Ballard, Acting President of the Quorum of the Twelve Apostles, also spoke, as did six of the eight Huntsman children.
On behalf of his counselors in the First Presidency, President Dallin H. Oaks and President Henry B. Eyring, President Nelson read a letter addressed to Sister Karen Huntsman, widow of Brother Huntsman, who died February 2 at age 80.
"We express to you and your family our heartfelt sympathy at the passing of your beloved husband and our friend, Jon M. Huntsman Sr.," President Nelson read. "At the same time, we rejoice with you in his life of devoted service.
"Brother Huntsman's mortal life was a marvel of diligence and hard work. His devotion as a husband, father, grandfather, great-grandfather, and stalwart servant of the Lord has influenced the lives of loved ones and all with whom he came in contact."
President Russell M. Nelson speaks during the funeral for Jon M. Huntsman Sr. in the Huntsman Center at the University of Utah in Salt Lake City on Saturday, February 10, 2018. Photo by Jeffrey D. Allred, Deseret News.
President Russell M. Nelson talks with Karen Huntsman prior to the funeral for her husband, Jon M. Huntsman Sr., in the Huntsman Center at the University of Utah in Salt Lake City on Saturday, February 10, 2018. Photo by Jeffrey D. Allred, Deseret News.
Jennifer Huntsman Parkin and Mark Huntsman speak during the funeral for Jon M. Huntsman Sr. in the Huntsman Center at the University of Utah in Salt Lake City on Saturday, February 10, 2018. Photo by Jeffrey D. Allred, Deseret News.
The letter made note of Brother Huntsman's love for his family and other people, "his lifelong efforts to accomplish his dreams, and his great testimony of the gospel." It expressed appreciation for his Church service as a missionary, president of the Washington D.C Mission, stake president, regional representative, and Area Seventy.
President Nelson said the most important date of Brother Huntsman's life was June 20, 1959, when he and Sister Huntsman "were sealed in the house of the Lord."
"Everything that gives us confidence and joy now looks at that date as the hinge point in their history."
President Ballard, whose daughter Brynn is married to Huntsman's son Peter, spoke of his own close friendship of many years with Brother Huntsman.
"I did not have any brothers when I came into the world," he said. "I had some wonderful sisters, but I felt Jon was my brother. He even called me 'Brother Russ.' I don't know that he even remembered, sometimes, my last name."
He said the two have traveled the world together and knelt in prayer in many places. "It has been my privilege to give Jon priesthood blessings over matters pertaining to business, family, and health. And he, likewise, has blessed me by the power of the holy priesthood that he bore."
Noting that the two have each spent time in the hospital, President Ballard said, "I have pushed him down the hallways in a wheelchair after surgery, and he has pushed me down the hallways in the hospital. I don't know how the nurses let us do that, but we made a great case that we were the only ones that could do that and do it properly."
The two have shared moments of both good news and sad news, he said. "Being the bearer of some of those experiences has been one of the treasures of my life, to be that close to this wonderful friend of mine."
All of the Huntsman children were present except for Kathleen, who is deceased, and David, who is serving with his wife, Michelle, in the Washington D.C. South Mission, where he presides.
With youngest sibling, Mark, standing by her side at the pulpit, youngest daughter Jennifer Huntsman Parkin said her father was "a masterful teacher, never missing an opportunity to teach in either word or deed."
"My father taught us through his actions that the greatest exercise of a human heart is to reach down and lift another up," she said.
She said she once expressed to him the desire to one day be CEO of the company. With tear-filled eyes, he looked at her and said, "I have no doubt that you could do that, but you have an opportunity to do something far greater than I have ever done, and that is a chance to be a righteous mother and a loving one."
James Huntsman said the words "go big" characterized and defined his father in many ways. "From this cavernous arena to the cancer hospital behind us on the hill, to buildings of higher education which dot universities around the country, to numerous shelters for those in need, to a multinational, billion-dollar corporation, which all bear his name, my father never shied away from setting high expectations for himself, for his family, and for those around him."
He recalled that during his teenage years, his father developed close relationships with many of his friends. One friend, Steve Burnett, owned a vintage Volkswagen Beetle. One morning, he was surprised to find that someone had spray-painted the letters "E-L-V-I-S" down the driver's side of the car.
"It didn't take long to figure out that the biggest Elvis fan in the neighborhood was my father," James said. "To this day I never understood why my father did this, but as a young teenager, I thought it was pretty cool and pretty unexpected and a small example of 'going big,' even when you're pranking somebody."
The friend drove the car around with the spray-painted word for months "as a reminder to all of us of the side of my father that we all loved," he said.
Paul Huntsman said his father's greatest tribute was not his business success, or even his considerable philanthropic impact, but his influence on the lives of those who knew him.
"He shared our burdens," he said. "He mourned with us. He wouldn't let us go until he knew we were healed. Nobody was beneath my father, a true sign of humility. He always sought to acknowledge everyday working people who never received any recognition."
Christena Huntsman Durham said Huntsman loved his role as a father.
"He loved to sing silly songs with us, and some of those songs have carried on to his grandchildren and great-grandchildren. When I was young, he would sometimes drop us off at school, and as we were driving down the street, he would often sing, 'Don't know much about biology, … but I do know that I love you.'"
Peter Huntsman said his father's corporate success was nothing more than a means to an end. "With the foundation he and my mother established, their life's work will live for generations to come."
As though speaking to his father, he said tearfully, "Dad, earlier this week, I chaired my first board meeting of Huntsman Corp. Thanks to you, I've never felt more prepared. Thanks to you, I've never felt more lonely. Our loss and our loneliness can only be exceeded by our gratitude for your love, direction, leadership, faith, and example."
Jon Huntsman Jr., U.S. ambassador to Russia and former governor of Utah, said of his father, "Although his charitable heart was formed in his youth, I noticed that after his diagnosis of prostate cancer 25 years ago, that his life became a public crusade to relieve human suffering. And because he refused to be imprisoned by his own deteriorating condition, he brought to fulfillment his most important work."
The invocation at the service was offered by Elder Dieter F. Uchtdorf and the benediction was given by Elder Ronald A. Rasband, both of the Quorum of the Twelve Apostles.
Hymns were performed by the American Festival Chorus, directed by Craig Jessop and accompanied by Bonnie Goodliffe.
The service was conducted by Bishop Herbert E. Scruggs, who noted that Elder Gary E. Stevenson of the Quorum of the Twelve Apostles was in attendance as well as members of the Seventy, the Presiding Bishopric, and General Officers of the Church. Leaders of other faiths, public officials, community leaders, and business associates of Huntsman also attended.