Feeding America Leadership Pays Visit to Salt Lake City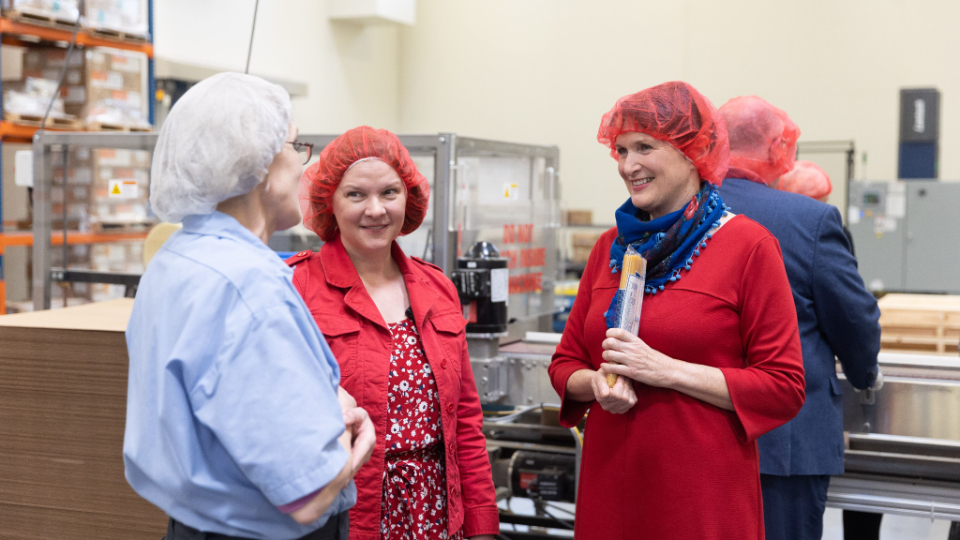 Feeding America Leadership Pays Visit to Salt Lake City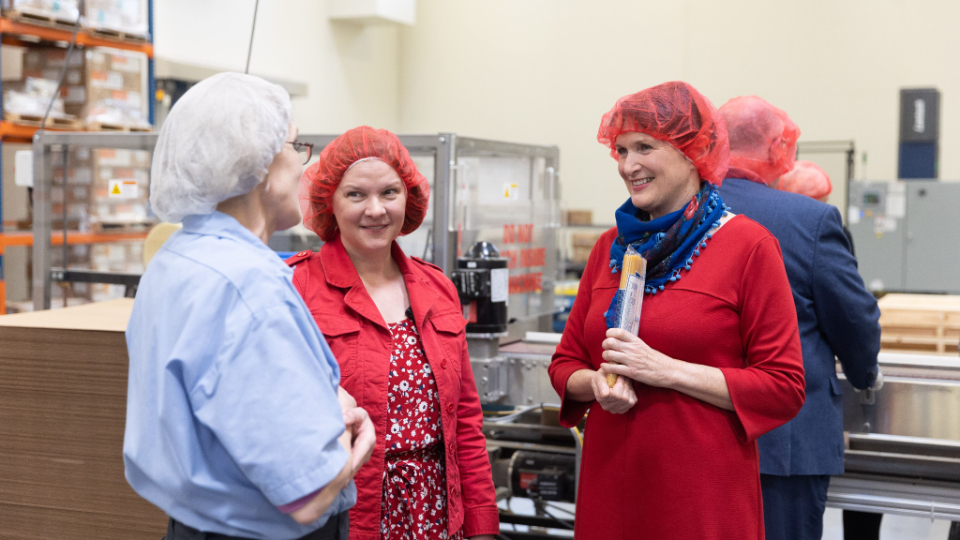 Feeding America Leadership Pays Visit to Salt Lake City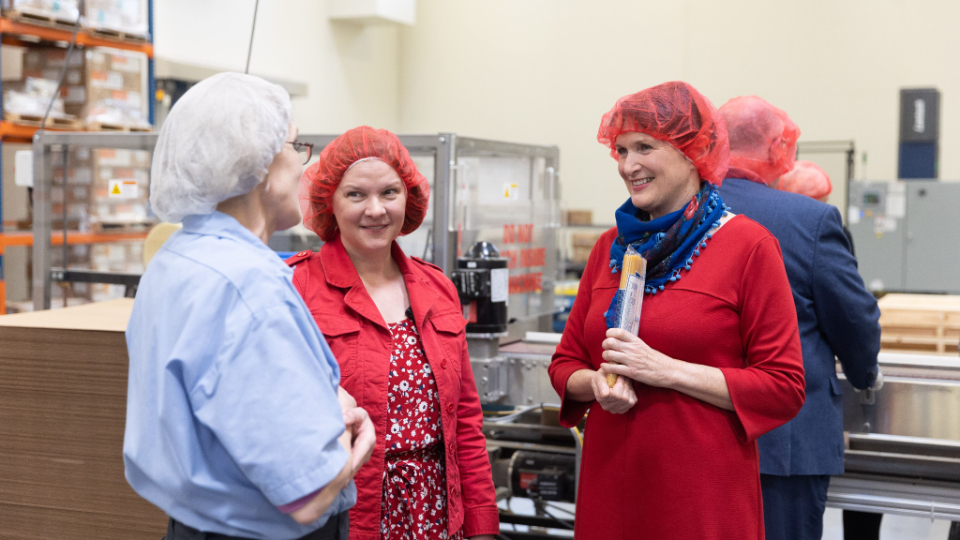 Feeding America Leadership Pays Visit to Salt Lake City
20 April 2023 – Salt Lake City
News Release
The largest U.S. hunger-relief organization strengthens ties with the Church and tours Welfare facilities
Leaders from Feeding America, the United States' largest hunger-relief organization, visited Salt Lake City April 6–7, 2023. The organization's chief supply chain officer, Erika Thiem, was accompanied by Casey Marsh, chief development officer and other Feeding America staff based out of Chicago.
Since the beginning of 2022, the Church has donated over 18.7 million pounds of food and $1 million in cash to Feeding America to help address the food insecurity needs in the United States.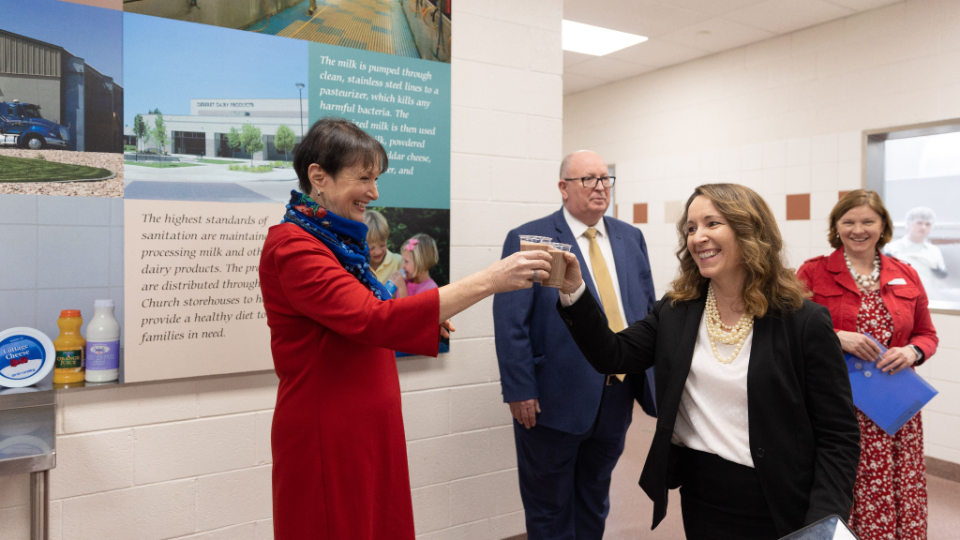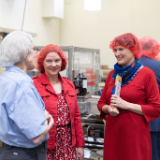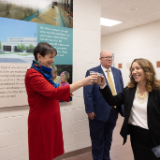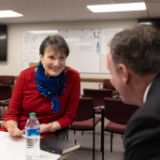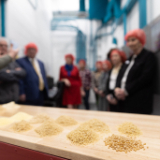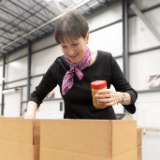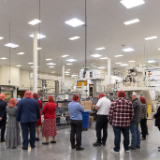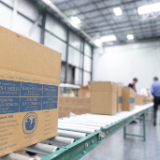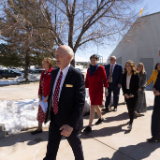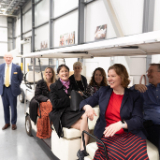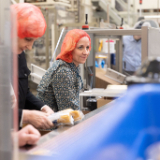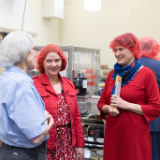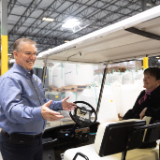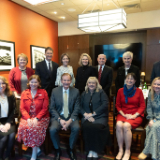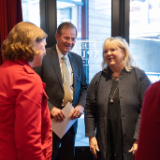 "The Church of [Jesus Christ of] Latter Day Saints has been a tremendous collaborator in our work against hunger in the United States — and really around the world," said Thiem. "Just two weeks ago, the Church helped provide a truckload of food for people facing the devastating impacts of tornadoes in the Midwest. And in the last year, the Church has also helped financially support programs at Feeding America to help procure food and supply donated food to our 60,000 food pantry partners across the United States."
Feeding America has been fighting the hunger crisis in the United States since 1979. Last year, their national network of partner food banks and agencies distributed 5.2 billion meals.
The Church will also be donating culturally relevant food to Feeding America to support Native American communities. Marsh, Feeding America's chief development officer, expressed the organization's excitement about this collaborative work and detailed the need that exists.
"Food insecurity rates are higher among Native communities — three to four times higher than white counterparts," said Marsh. "The fact that we've got an organization in the Church that is concerned about that, and truly committed to making a difference, goes a long way."
Strengthening Ties in Chicago
Last November, Church leaders met with Feeding America's CEO Claire Babineaux-Fontenot and other representatives to look for ways the Church can support the organization's efforts.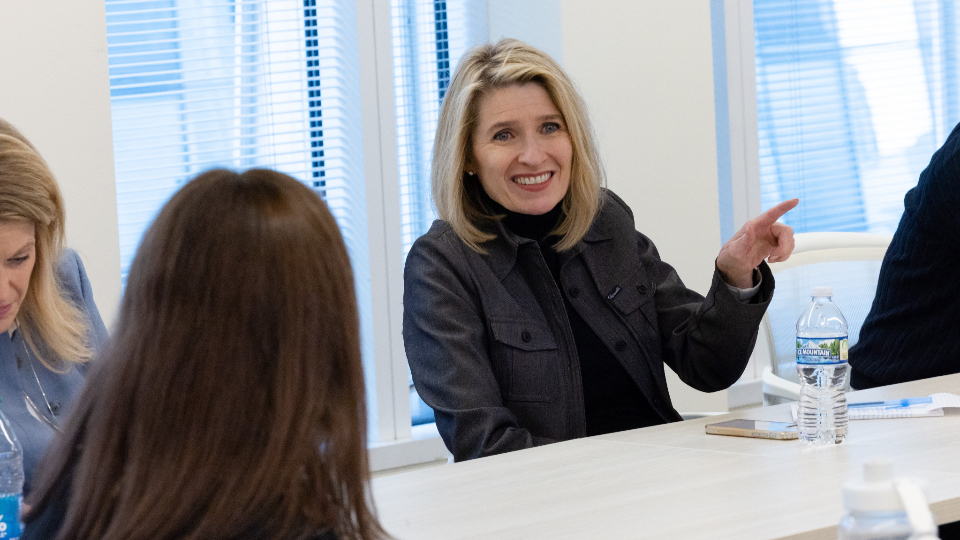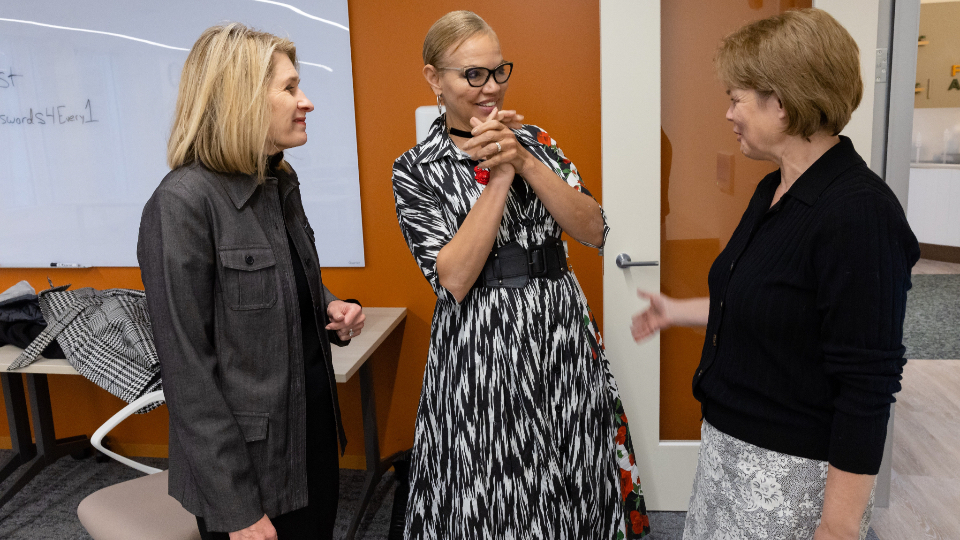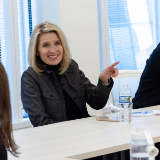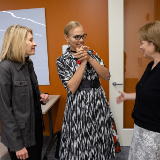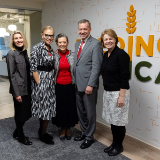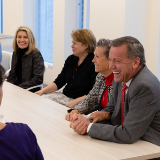 "It's such a privilege to be in Chicago at the headquarters of Feeding America because we've been working together for a really long time," said Sharon Eubank, director of Church Humanitarian Services. "What I like about Feeding America is [that] they really emphasize self-reliance. They're trying to help people solve the problems that are creating their food insecurity so they can get back on their feet and then help other people."
"When I see the good that's happening, I know [Jesus Christ] is so genuinely aware of each of us," said Relief Society General President Camille N. Johnson following the meeting.
President Johnson observed that the Church's women's organization known as the Relief Society shares many values with Feeding America.
Leaders from the Church of Jesus Christ gathered at Feeding America's headquarters in Chicago on Friday, November 4, 2022. (From left) Relief Society General President Camille N. Johnson, Feeding America CEO Claire Babineaux-Fontenot, Shelley Dianne Bennett, Elder Randall K. Bennett of the Seventy and Humanitarian Services Director Sharon Eubank.2023 by Intellectual Reserve, Inc. All rights reserved.
"The first thing I noticed when I walked in is their logo, and it has the symbol of wheat," said President Johnson. "We share that. The Relief Society symbol also includes wheat, reminding us of the efforts the Relief Society sisters made many years ago to store wheat, and what a blessing that proved to be to members of the Church around the world."
"They're motivated by the same thing that motivates us — it's love," said President Johnson.
Babineaux-Fontenot expressed her gratitude for the Church's support.
"Your [Church members] share their abundance with their neighbors in communities across the country. I have personally seen the good that has come from that generosity," Babineaux-Fontenot said. "Feeding America and The Church of Jesus Christ of Latter-day Saints share a steadfast commitment to ending hunger."
"I have found the people of the Church to be deeply committed to service, and we are so grateful for the incredible support they have provided for people facing hunger," Babineaux-Fontenot continued.
Visit to Church Headquarters
Elder Randall K. Bennett of the Seventy, who participated in the visits in Chicago and Salt Lake City, explained the significance of Feeding America's visit to Utah.
"We just felt to invite them all to come to Salt Lake City because they do so much good at feeding people facing hunger," he said. "And they wanted to know, "Where does this food all come from?" And so this is a very significant visit for us."
Their two-day visit began with a tour of Welfare Square, the epicenter of many of the Church's humanitarian efforts. This was followed by a tour of the Deseret Mill and Pasta Plant in Kaysville, Utah, as well as a visit to the Bishops' Central Storehouse. Each place left a strong impression on the guests.
Leaders of Feeding America tour the Bishops' Central Storehouse in Salt Lake City, Utah, on Friday, April 7, 2023.2023 by Intellectual Reserve, Inc. All rights reserved.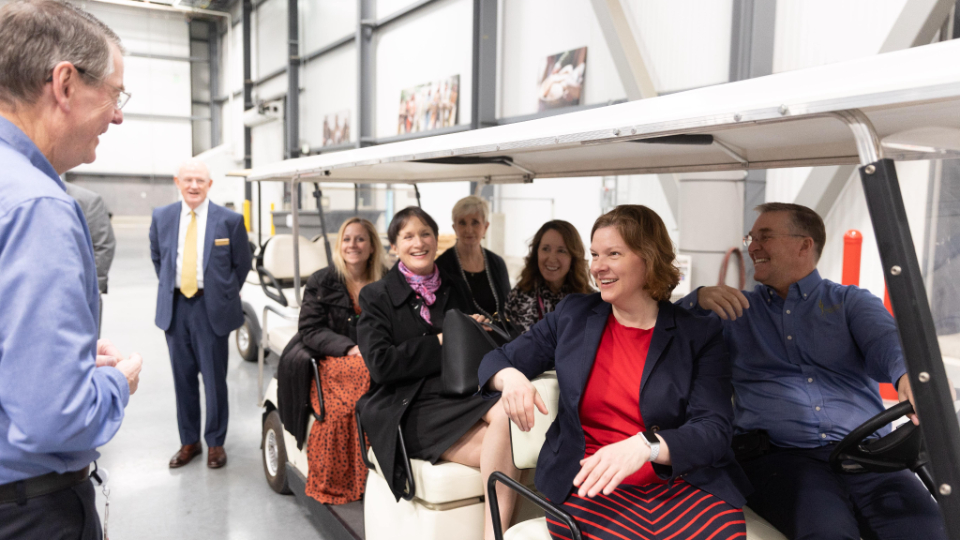 "I did not expect to learn the scale of the operation and the effort and the volunteerism and the support," said Marsh. "I have a much deeper appreciation of everything that has to go into it in order to make this all happen."
"I'm excited to think about how we might take advantage of some of the production opportunities and learn from how the Church is doing more internal production," said Thiem.
"The spirit with which Church members are all contributing to this mission, not only to end hunger but to help neighbors, is really inspirational," said Marsh.
"Thank you for all the hospitality," said Thiem. "It's really been a remarkable day."