BYU Tops Harvard & Princeton in New Wall Street Journal Ranking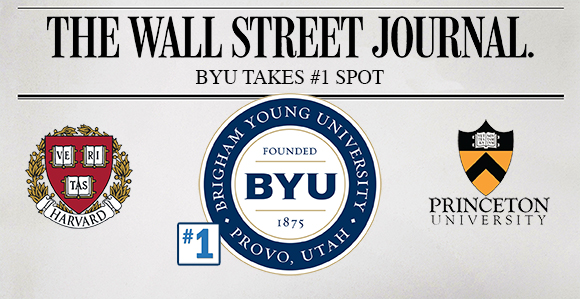 BYU Tops Harvard & Princeton in New Wall Street Journal Ranking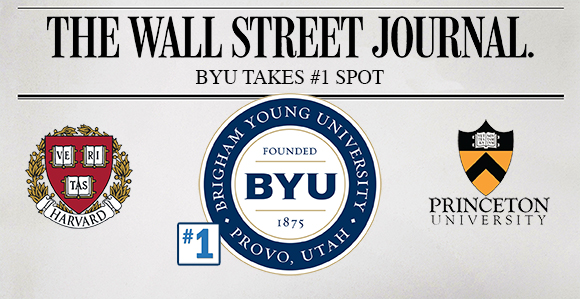 BYU Tops Harvard & Princeton in New Wall Street Journal Ranking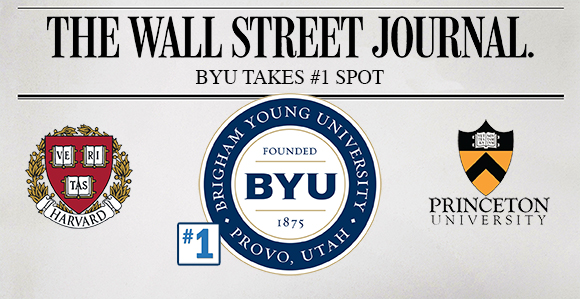 A new ranking from The Wall Street Journal and Times Higher Education puts Brigham Young University at the top of the list for colleges across America that are worth the cost.
BYU shares the No. 1 spot with the U.S. Naval Academy in the ranking, which is based on the survey results of nearly 175,000 students. The Wall Street Journal/THE team asked students if they think their schools will turn out to have been worth the expense, and then scored each institution on a 10-point scale.
Both BYU and the Naval Academy scored 9.6 out of 10. They were followed in the top five by MIT (which scored 9.2), the Virginia Military Institute (9) and Princeton (8.9).
BYU also scored highly on two additional survey questions posed to students:
If you could start over, would you still choose this college? (8.8/10)

Does your college provide an environment where you feel you are surrounded by exceptional students who inspire and motivate you? (8.4/10)
The "Worth the Cost" ranking is the second No. 1 ranking for BYU this year by a major publication. In April, Forbes named BYU the No. 1 Best Valueuniversity in the country, providing the best return on investment in the nation. Joining BYU in the Top 10 in that ranking were the likes of Princeton, U.C. Berkeley, Stanford and Harvard.
You can see the full college rankings and The Wall Street Journal story at this link:
https://www.wsj.com/articles/is-your-college-worth-the-cost-heres-what-students-say-about-their-colleges-11567640341
In previous WSJ/THE rankings, BYU has also landed the No. 1 spot among schools in the west for highest student engagement in the classroom.